St. Joseph The Worker Parish

Office Hours
Tue-Friday: 8:30am to 3:30pm
Sat, Sun, Monday: Closed
June 15, 2016
Upcoming Events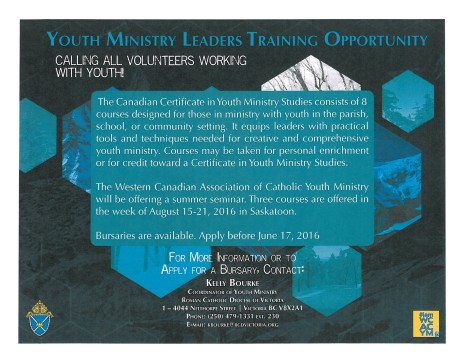 June 14, 2016
Children's Religious Education
Children's Religious Classes
Registration for "Our Catechism Journey" for Ages 4 through Grade 6 will be held in September 2016.
Please watch for announcements in the Sunday Bulletin

Year I Sacramental Prep - Gr 2; Age 7
Those children wishing to begin sacramental preparation (Reconciliation,
Confirmation & Eucharist) will register for Year I. This is a two-year
program. Children attending Catholic schools must also
register. All families will receive additional
communication in September. Within this two-year program, the
Sacrament of Reconciliation (Confession) is celebrated in
the 1st year and the remaining sacraments in Year II. If
Baptism is to be celebrated, there are various steps along
the way that will be explained. Parent participation required.
Year II Sacramental Prep - Gr 3; Age 8
For children have completed Year I of the Sacramental
Preparation Class.
We will also have the following programs:
Children's Liturgy - Seeds - Age 4 - Cost - Free
Children's Liturgy - Promise - K-Gr 1; Age 5-6 yrs - Free
Children's Liturgy - Good News - Gr 2-3; Age 7-8 yrs - Free
Children's Liturgy Programs run during Mass (approximate time: after opening prayer, prior to the readings - presentation of the gifts)
Note: NO registration is required for these three programs
Pre-Sacraments - used to be called Grade 1 Catechism - Gr 1; Age 6
Sacraments In Action - Gr 4-6; Ages 9 and up - for all those students who have already received their Sacraments; fun and games while learning how hou can demonstrate the Sacraments In Action.
Walking with Jesus - Gr 5-6; Ages 10 and up
May 13, 2016
Homily from the March For Life Bishop Gary
Please click on link below to access Bishop Gary's Homily for the March for Life May 13, 2016